QSO-Party
---

Here you may download official results of the EURO-2012 HF QSO-Party HF contest. In the two-hour contest, which took place on 09 June 2012 was attended 168 amateurs from 23 countries. All winners and participants of this contest will be awarded by the end of 2012 by the club TDR from Kharkiv, who was the organizer of the event.
In the QSO-Party was attended 35 Polish stations, the best will receive certificates and prizes (gadgets related to EURO-2012 and Albums Photo of Wroclaw) funded by the Lower Silesian Regional PZK Office - the official co-organizer of the EURO-2012 HF QSO-Party HF contest.
Thank you all for participating in the competition. Here is a link to the results of the competition PDF format.



A short QSO-Party will be held for two hours on June 9th 2012. At this time all Polish, Ukrainian event stations and rest who are interested will participate in this contest. The rules of the QSO-Party were developed by the Kharkov Association of Amateur Radio and it is co-organized by the Lower Silesian Regional Division of PZK, who also sponsored the awards for the top Polish stations.
The QSO-Party is overseen by: SP2JMR - President of PZK and UT2UB - President of UARL.
We invite everyone to participate in this contest! It will be a great opportunity to make QSO's with many stations valid for "EFC2012 on the AIR" Awards.
In addition, you can win many valuable prizes: sports equipment, UHF/VHF TRX, electronic equipment and more!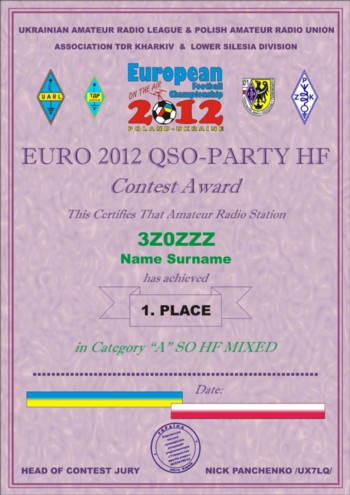 EURO 2012 QSO-PARTY
The contest is dedicated to the European Football Championship 2012
Contest Rules



Organizers: Ukrainian Amateur Radio League (Ukraine) and the Polish Amateur Radio Association - PZK (Poland). The direct organizers and sponsors of the awards are: TDR CHARKOV (Ukraine) and the Lower Silesia Division of PZK (Poland).

Participants: All licensed radio amateurs from any country in the world.

Date and time: 9 June 2012 07:00-08:59 UTC.

Bands: 7, 14 and 21 MHz

Recommended frequencies:
7010-7030, 14010-14030, 21010-21030 (CW)
7050-7150, 14150-14280, 21150-21280 (SSB)

Mode: SSB, CW.

Categories:

A - SO HF MIXED - Single Operator - CW, SSB
B - MO HF MIXED - Multi Operators (team of two and more operators) - CW, SSB
C - SPECIAL CALL HF MIXED - EURO-2012 Ukrainian special event stations EM2012.., EN2012.., EO2012.. and Polish special event stations SN2012.., HF2012.., 3Z2012 - CW, SSB

QSO's with the same station on different bands or a different mode are allowed.

Exchange:
RS(T) + serial number of the QSO starting with 001

Points:
- QSO with a Ukrainian or Polish special event station - 3 points;
- QSO with all other stations - 1 point.

Multiplier:
The total number of Ukrainian and Polish special event stations on each band, regardless of mode.

Final score:
The total number of QSO points on all bands multiplied by the total number of multipliers on all bands.

Awards:
The top 3 scores in each category will be awarded with a medal and a special diploma. Additional awards will be given to the top Polish and Ukrainian stations in each category.

All participants can also apply for the following awards:
- UARL awards: http://uarlaward.ucoz.com
- PZK awards: http://awards.pzk.org.pl
- TDR awards - KHARKIV FOOTBALL 2012, KHARKIV and KHARKIV-AVIA, rules can be seen on their Web page: http://tdr.at.ua/index/diplomy_odr/0-24
- Awards to commemorate the European Football Championship 2012: http://efc2012.pzk.org.pl

Disqualification:
Willful violation of amateur radio regulations, unsportsmanlike conduct during the contest or violation of contest rules may lead to disqualification.

Logs:
- Electronic Cabrillo logs must be sent to: qsoparty@ukr.net
- Paper logs must be sent to: Dmytro Panchenko, P.O.Box 2373, Kharkiv-1, UKRAINE.

Deadline for submitting logs: 9 July 2012.

Home-pages of organizers:
PZK: www.pzk.org.pl, UARL: www.uarl.org.ua, TDR: www.tdr.at.ua, DOT PZK: www.ot01.pzk.org.pl

Version of the QSO-party rules for download in PDF format:



EURO2012 QSO-PARTY HF Rules, English version

EURO2012 QSO-PARTY HF Rules, Ukrainian version

EURO2012 QSO-PARTY HF Rules, Italian version, thanks to Bob SP2EBG for translation